Okay, like everybody else i started streaming too. I had a planned live show, but live shows will not be possible for at least another half year. Every evening my social timelines start buzzing with live streams and all the big artists have also started to stream live. No place for me with my newly created and sometimes shaky solo live performance to make a stand? After some discussions with friends i decided to make make the jump.
But how to go about it? If you already have experience with live streaming, you can skip this entire article. This is here just for the record so to say. After some looking around I came to this setup:

– OBS Studio with ASIO plugin
– Restream.io for casting to multiple streaming platforms
– Logitech C920 webcam
– Ring light
– Ayra ComPar 2 stage light see this article
OBS is surprisingly simple to set up. It has its quirks. Sometimes it does not recognize the camera, but some fiddling with settings does the trick. You define a scene by adding video and audio sources. Every time you switch from scene to scene it adds a nice cross fade to make the transition smooth. You can switch the cross fade feature off of course.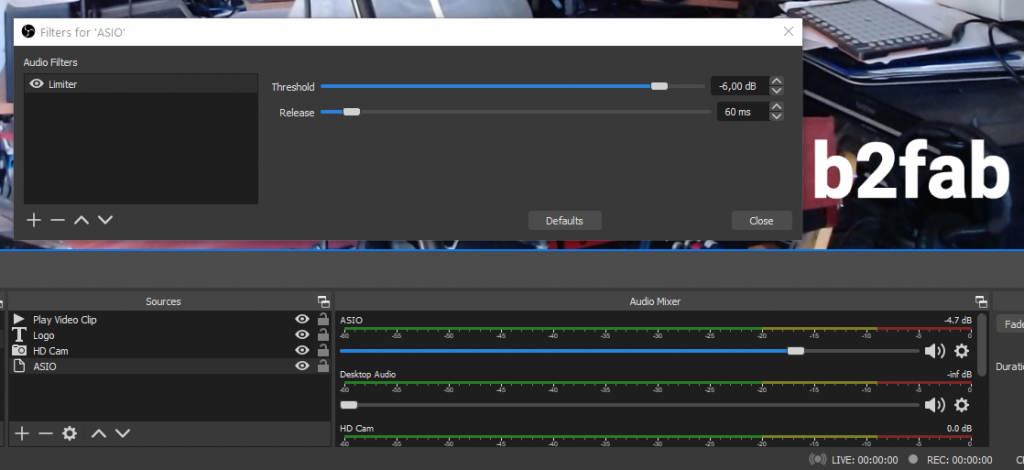 I only use one scene. The video clip is there to promote any YouTube video clip. It plays in a corner and disappears when it has played out. The logo is just "b2fab" somewhere in a corner. The HD cam is the C920 and the ASIO source is routed from my live mixer to the audio interface on the PC. I setup a limiter at -6db on the ASIO audio as a filter to make sure i don't get distortion over any audio peaks.
I also had to choose my platform. From the start i wanted also to stream live on Facebook and Instagram. Instagram however kind of limits access to live streaming to only phones. There is software to stream from a PC, but then you have to set it up again for every session and you need to switch off two-factor authentication. For me one bridge too far for now.
I chose Restream.io as a single platform to set up for streaming from OBS. It then allows to stream to multiple platforms and bundle all the chats from the different platforms into a single session. For Facebook pages however, you need a paid subscription tier. For now I selected the free options YouTube, Twitch and Periscope. YouTube because it is easy to access for my older audience. Twitch because it seemed quite fun and i also like gaming. Periscope because it connects to Twitter.
If the live show takes shape i might step into streaming from my Facebook page. Another plan is to try the iRig Stream solution and start making separate live streams on Instagram. With high quality audio from the live mixer. I will surely blog about it if i start working with it.
For now it all works. Restream.io allows me to drop a widget on my site. Its a bit basic and only comes alive when i am live, so i have to add relevant information to it to make it interesting. If you want to drop in and join my live musings check my YouTube, Twitch and Periscope channels or my site at around 21:00 CEST.