This is a glance in my kitchen where I will tell you my kitchen secret: the sauce. You will find it somewhere on almost every song I released, the Molekular effects inside a Reaktor FX chain. This is an effect powerhouse that I use to bring life to otherwise maybe repetitive or otherwise uninteresting sounds. It's well hidden somewhere in the infinite sound and effect library of Native Instruments. However, if you use Reaktor as part of your workflow, you might already know it. It's sound experimentation to the max.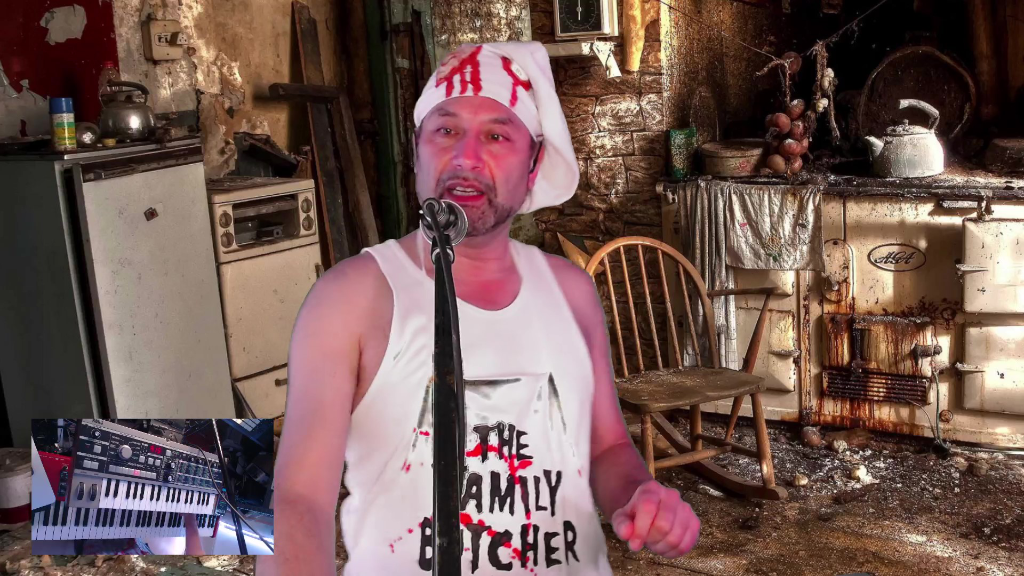 It's hard to dive into the features of Molekular, because its really overflowing with possibilities. Just a look at the interface can already make your brain explode. Imagine that underneath that interface all kinds of wires are running to connect everything with anything. Reaktor users will be used to it, because it will be just a set of modules like all other modules. Please check out all video's explaining the Molekular effects chain on the Native Instruments site.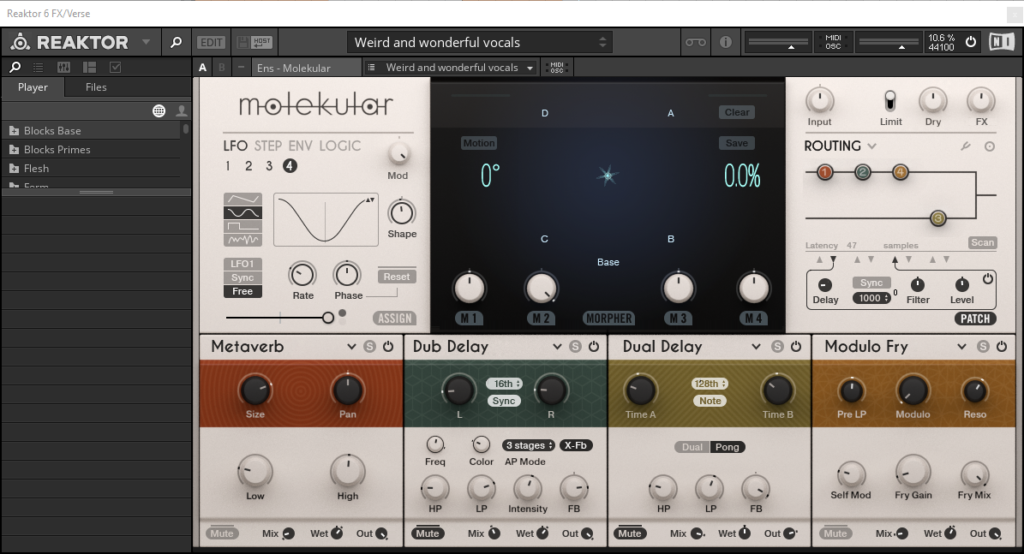 I will try to make a start though. It starts with putting a Reaktor FX plugin in your effects chain. Then inside the FX plugin you load Molekular. Then in essence it starts on the bottom row. There you will see a chain of effects, that you can start modulating. The chain connections are depicted in the top right section. Effects can be chained one after the other, or parallel, or a combination of serial and parallel mixed. Then in the top left and middle you can choose how to modulate all the effect parameters.
The effects are just plain awesome. Hard filters, delays, reverbs, pitch shifters. Everything you need to bring bland sounds to life. You can make a rhythmic track tonal, or vice versa. You can drown sounds in distorted delays or otherwise alienating effects, or bring subtle life to a sound.
On the left side there are LFO's, Envelopes, a step sequencer and a complex form of logic modulation. The modulation methods kind of overlap here and there and can then be interconnected to multiply or randomize the modulation of the effect chain. Then in the middle is a center piece, an X-Y modulator that can be set in motion by logic or the step sequencer, or by you.
The greatest power of this all is that if you replay your song you will have all modulations, no matter how complex, take place exactly the same way. The modulation can have complexity, but also repeatability in time. If you are a fan of totally random every time, this is always an option. For me the magic is the repeatability.
It means that I can just try some alchemy in effect chains and mess around with the modulation. If I find something that sounds cool, I can let it sound as cool every time. Assuming that you, like me, start the render from the same point every render time, the modulation of the effects will be the same. I find it inviting for experimentation, because it is rewarding if I find something that works.
There is only one problem now. With my luck, now that I tell you about it, it will probably jinx everything and it will be discontinued or stop functioning soon. This will really mean that I will have to freeze a machine software wise to allow it to keep running Molekular. With this in mind I will just tell you about it, so you can do the same.