Just in, the gadget of the month: the Logitech Craft. I was looking out for some more control over the mixing process and of course there are many controllers. When you already have an Ableton Push what more do you need? Well actually there is a thing about me and Push. I cannot use it blindly, so I always have to look at either the screen, or the controls, or the display. When mixing in the Ableton Live arrangement view it gets worse. Mouse, keyboard, screen, Push… It is at its best in Session View.
There were two things I was looking for. A high quality 'chicklet' keyboard like on my new Lenovo and it has an extra: A Knob. A dial that is touch sensitive and clickable to perform specific actions in any part of any program that has focus on your desktop. I am quite sure that your regular keyboard and a Microsoft Dial controller wil also make up good combo, but I chose the Craft to replace my old and clunky keyboard with media controls.
Unpacking and installing was the easy part. The previous keyboard was also a Logitech and it used the same Unified remote. Switch on and off and the keyboard was connected. Then a disappointment! No profile for Ableton Live. With a profile the keyboard recognizes the program its in and it immediately adds some shortcuts to the knob to control. For instance in a browser you can select a tab with the knob. In Photoshop you can zoom. In Lightroom you can change the exposure, or so I'm told. Standard functionality in other applications is controlling the volume of the PC and clicking it will pause/play music.
So there I was staring at Ableton, without being able to use the knob. I started diving into the settings, and there i found the Development Mode. Click it and you will need to also enable sending stats to Logitech. Tough but there is no escape.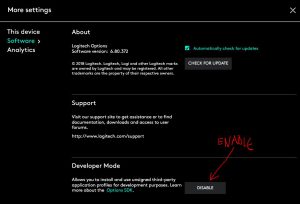 From there you can select more programs to control with the knob and yes, Ableton Live is there!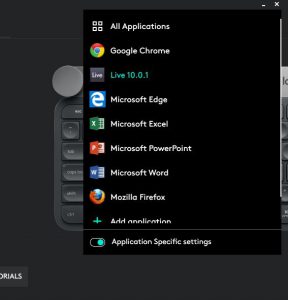 And lo and behold, assigning up and down buttons allows you to control Ableton Live mixing with the knob. A new world opens up, where you can look at the screen. Listen to the mix and control a setting in Ableton Live with the knob. This was what I was looking for, more control and a better keyboard for the daily typing chores. Yay!